The article below was written by C. Edward Kelso and posted to coinivore.com on March 1, 2021.
It is another example of a mainstream company doing a 180 on cryptocurrencies after years of contributing to the F.U.D. (Fear, Uncertainty, and Doubt) surrounding cryptocurrencies.
It is natural to fear what you do not know, and financial institutions have a reason to fear cryptocurrencies because it gives YOU an option when it comes to YOUR money.
The Cryptocurrency Industry is a $1.7 trillion dollar industry is at a point where serious investors and institutions are starting to pay attention.
FOLLOW THE MONEY!
Do not get into the cryptocurrency space because you see celebrities and institutional investors are putting their money into cryptocurrencies. Conduct your own due diligence before you jump in because cryptocurrencies are volatile and you need to know what you are doing or you could lose everything you put into this space.
As I am typing this, BITCOIN just reached a new HIGH of $60,000 per coin. Three weeks ago it reached a new high only to see a pullback to $43,000 per coin.
Start your cryptocurrency education today by clicking on the "Cryptocurrency Education" link in the main menu above so that you may make an educated decision when you do join this space.
The four cryptocurrencies listed on Google Finance are as follows:
Bitcoin – the number one cryptocurrency by market cap according to coinmarketcap.com
Ethereum – the number two cryptocurrency by market cap
Litecoin – the number nine cryptocurrency by market cap
Bitcoin Cash – the number 11 cryptocurrency by market cap
They are also four of the five cryptocurrencies traded by Copy Pro Traders with the fifth being Chainlink which is the number 10 cryptocurrency by market cap. Copy Pro Traders allows you to follow a professional trader while maintaining control of your cryptocurrency and protecting your gains by storing them in a stablecoin.
Read the article below, leave a comment, and subscribe to my blog so that you may be notified when new content is posted.
The article below can be found by going to the following website URL:
Suddenly, and then all at once.
Browser-based Google Finance slyly listed a "crypto" tab among its offerings this week.
The facing page appears, as usual, allowing user customization, including market comparisons by country, a basket of currencies tab, and now a "crypto" tab.
It's quite a subtle form of capitulation for Google.
The online behemoth has had a love/hate relationship with cryptocurrencies for years. It was only two or so years ago, for example, Scott Spencer, Vice President of Product Management, Ads Privacy and Safety at Google rocked markets by acknowledging an effective ban on advertising related to cryptocurrencies, lumping the ecosystem in with scams and dangers to online surfers.
Months later it would purge crypto content from its YouTube platform. It would insist the scrubbing came as a result of an error, but such "errors" continue into the present day.
Subsequent messaging from the company about a ban of crypto was muddled, contradictory, and often confusing.
In the background, however, Google appeared to have other intentions in mind.
Just weeks ago when Blockchain.com announced having raised $120M in an investment round, Google Ventures was quietly tucked-in among contributors.
Around the same time, the BitPay app was added to Google Play … after headline-making battles and removals also going back years.
Clearly, something is afoot at Google.
Google Finance began more than a dozen years ago as an answer to first-movers in the space such as Yahoo! Finance. And while the new Google Finance "crypto" tab lists only four assets (BTC, ETH, LTC, and BCH), it is not immediately clear why that quartet was highlighted for the rollout.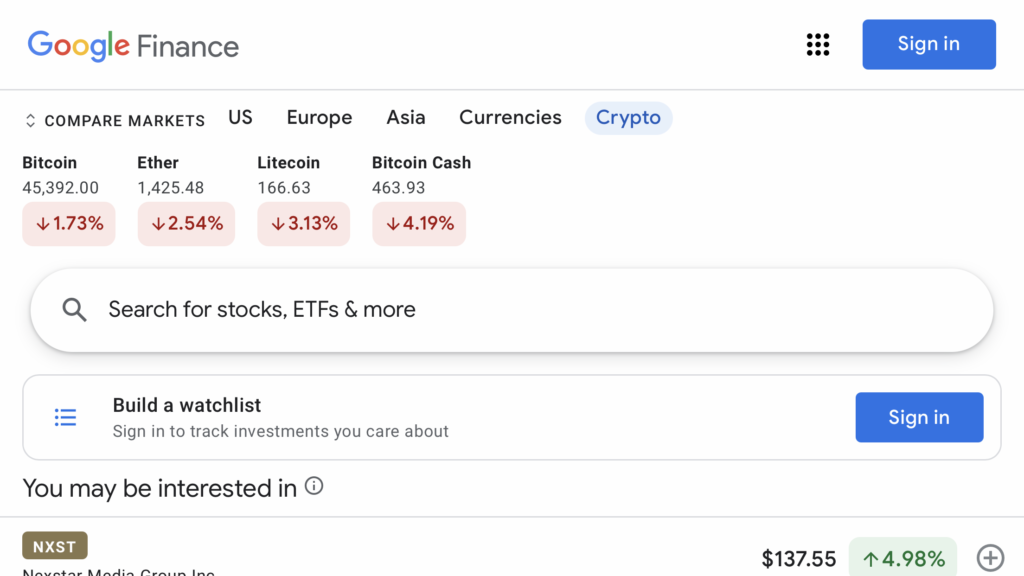 If I were a betting man, something tells me the "crypto" tab might expand considerably in the coming months and years. Demand for cryptocurrency knowledge and literacy is simply through the roof, invading all sectors of finance and popular culture. To be in the information game, to be the go-to search engine, and NOT have a dedicated reference page is leaving a lot of advertising money and clicks on the table.
And by clicking on a specific coin inside the new tab, users have access to a price line chart over significant spans of time (a funny aside is that Google Finance has a Previous Close price, hinting at an outdated legacy understanding).
Under Key Stats, each coin gets a brief, Wikipedia-inspired explanation about its significance.
Overall, the Google Finance "crypto" tab is underwhelming. But that's how it starts. Giant global corporations dismiss, ignore, and then attempt to throttle and thwart and ban. And when all of the measures prove ineffective against a tidal wave of interest, whatever remaining magic inside of freer markets does its thing.
Keep an eye out ashore. A tsunami isn't far behind.